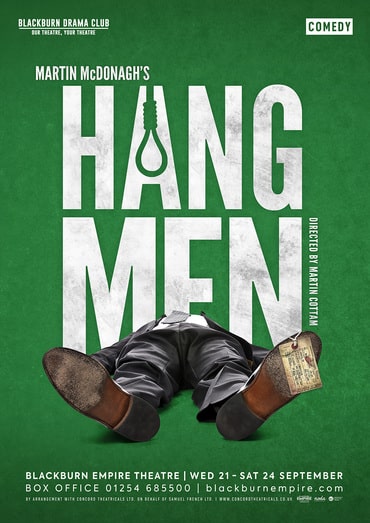 Hangmen by Blackburn Drama Club
Wed 21 September, 2022 @ 7:30 pm
Hangmen is mostly set in the year 1965, when the death penalty for murder is abolished in Britain. The story centres on the former executioner turned pub-owner, Harry Wade and poses the following question: what's the second-best hangman in England to do on the day they've abolished hanging?
Harry may seem to be enjoying post-retirement life in Oldham with his wife Alice and his teenage daughter Shirley. Spending his evenings jovially hosting his pub regulars. But his dark past comes back to haunt him, in the form of his old assistant, Syd who appears to express doubts about the justice of their last hanging, a man named Hennessey, executed on the charge of murdering a young woman.
The future of Harry's peaceful retirement is also disrupted by the mysterious arrival of Mooney, a stranger with unknown motives who flirts with Harry's daughter and who is clearly marked as an outsider, from somewhere down south.