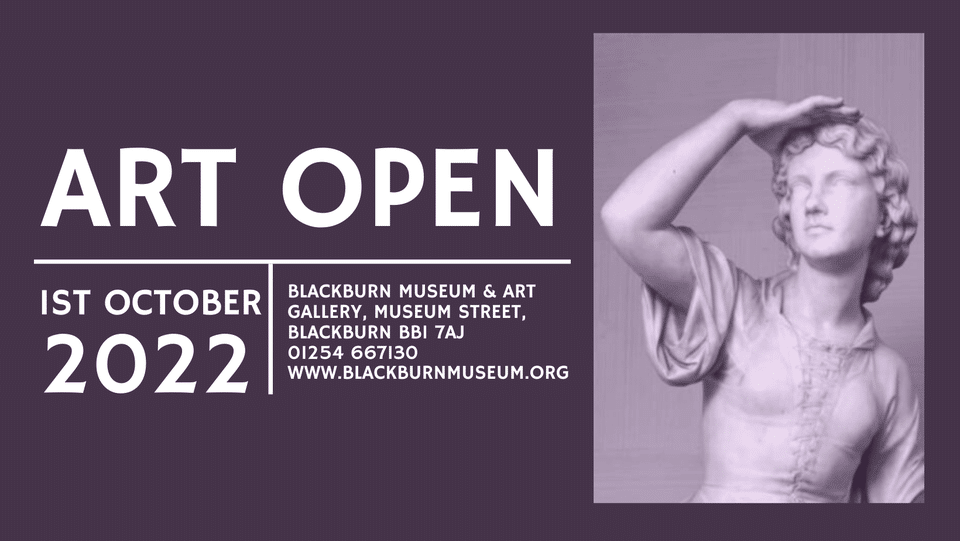 Art Open Exhibition
Fri 23 December, 2022 @ 12:00 pm
-
4:45 pm
Blackburn Museum & Art Gallery is excited to be holding its very first ART OPEN in October!
---
There is no theme for this year's exhibition and we can't wait to showcase all kinds of local creativity from painting to drawing to sculpture this autumn. With prizes to win and the option to sell your work this is an exciting chance for you or someone you know to showcase their art to a wide audience!
Due to restrictions in hanging space we require the area of the painting submitted to be no larger than 40″ х 40″ (100x100cm), including the frame. Entries are strictly limited to either one large piece (max 100x100cm) or two small pieces. Sculptures and other media of a reasonable size can also be exhibited.
All works must be the artists own work, you cannot submit on behalf of someone else. As this is our first open demand may be high and we may not be able to show all works so please read the entry form and terms and conditions form closely for more details regarding submissions.
Conditions of Entry and Entry Form
To submit your work fill in an entry form that can be downloaded from the link above  or collect a printed version of the form at the Museum front desk. Please bring your filled in entry form and the £5 entry fee along with your submitted art work to the museum between Thursday 15th – Saturday 17th September 12pm – 4:45pm where a staff member will be there to receive it.
Please email museum@blackburn.gov.uk or drop us a message on social media if you have any queries about the Open.
The exhibition will be on display from October 1 until January 14, from Wednesday to Saturday between 12pm and 4:45pm.