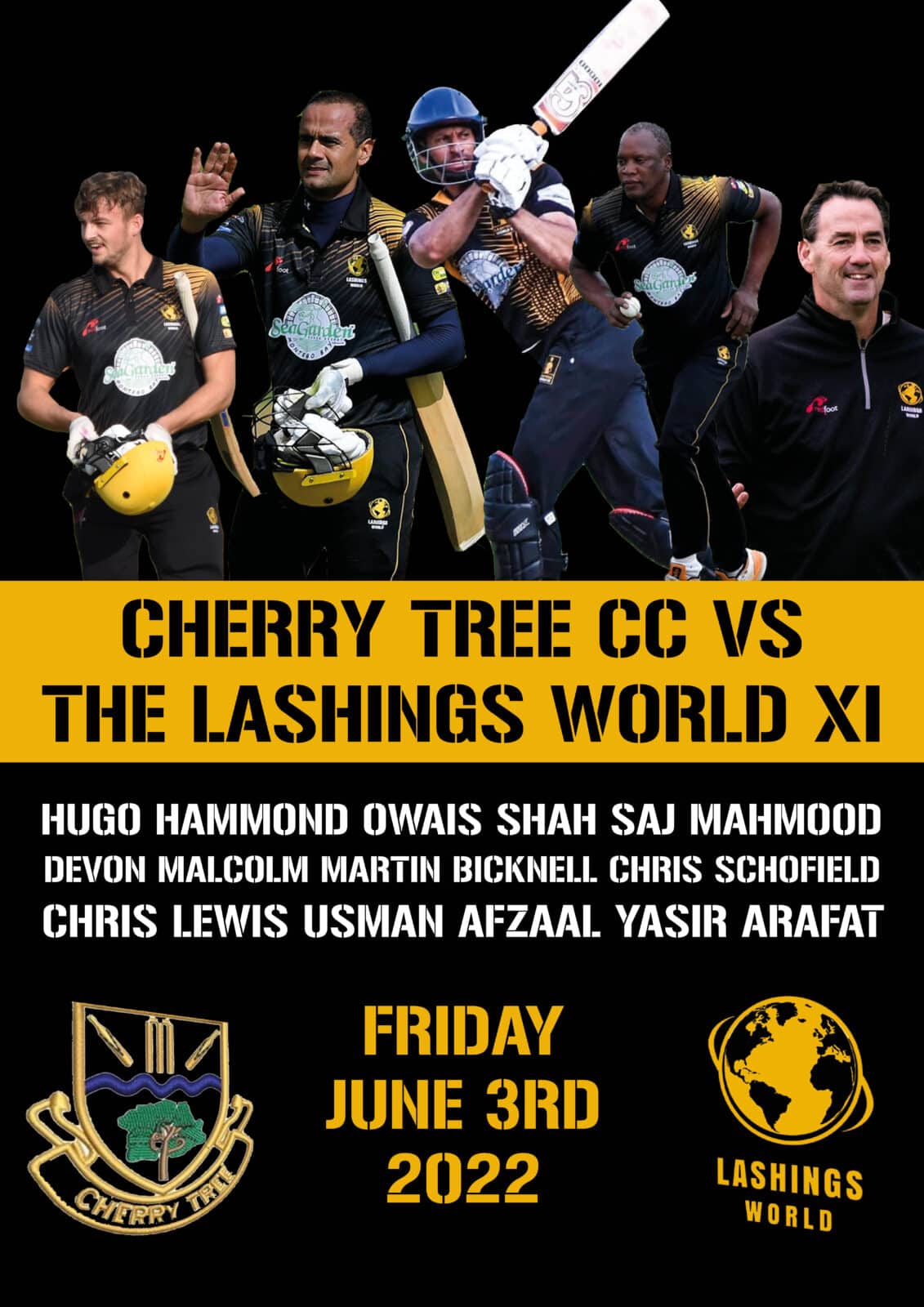 Lashings World XI Come To Blackburn
Fri 03 June @ 3:00 pm
-
7:30 pm
The Harlem Globetrotters of cricket are coming to Cherry Tree Cricket Club on Friday 3rd June to play a select team in a T20. A team full of international cricketers from around the world will come to Blackburn for the biggest gathering of world cricketers ever in the town. The inimitable Henry Blofeld will host and commentate on the game and Sir Gordon Greenidge – one of the greatest ever opening batters – will be there to welcome evryone.  The Lashings World Xi team is:
MARTIN BICKNELL
A Surrey cricketing legend. Over 1000 first class wickets and an England international fast bowler.
LEONARDO JULIEN
Up and coming star with West Indies B, who represents Trinbago Knight Riders in the 2021 Caribbean League.
OWAIS SHAH
A man with over 16,000 First Class runs to his name. He was a prolific middle order batsman who represented England on 94 occasions across all free formats of the game.
USMAN AFZAAL
A man with over 14,000 FC runs, former Surrey T20 captain and former England Test Match batsman
CHRIS SCHOFIELD
Lashings stalwart, Lancashire legend and former England international leg spinner
RICHARD LEVI
South African T20 International batsman and 8 years a Northamptonshire star
MOHAMMAD ASHRAFUL
Former Bangladesh captain, with 6 test match hundreds and over 200 international appearances to his name
YASIR ARAFAT
Pakistan International, global T20 specialist and one of the greatest death bowlers of all time
HUGO HAMMOND
England disability international wicket keeper batsman and star of ITV's Love Island in 2021
CHRIS LEWIS
Former England all rounder at Test and One Day International level, a World Cup finalist in 1992
SAJ MAHMOOD
Lancashire bowler for 10 seasons with 34 international appearances to his name
DAVID SMITH (Team Manager)
Former Surrey, Sussex and England batsman. One of only six men to score a century in the Nat West Trophy final at Lords