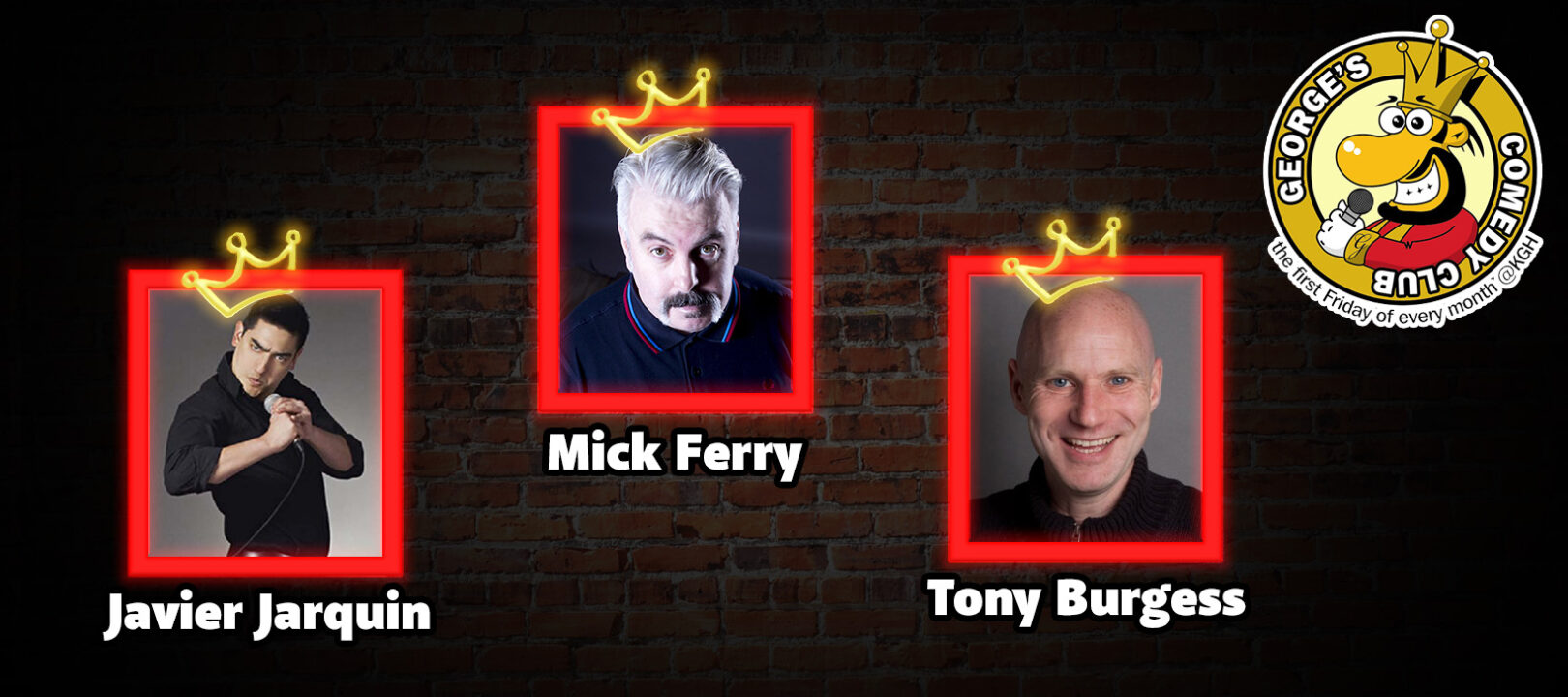 George's Comedy Club December
Fri 02 December @ 8:00 pm
Javier Jarquin
Javier Jarquin is an extremely experienced and highly respected, multi-skilled performer. Raised in New Zealand with Latin-American/Chinese parents, the multi award winning stand up masterfully weaves his unique perspective into every performance and delivers sharply executed insights on life as an immigrant. Beginning his comedy career as the Winner of the 2007 'So You Think You're Funny' competition in Christchurch NZ, Javier went on to become a core member of New Zealand's longest running improv comedy show Scared Scriptless, before travelling the world building a highly esteemed career as comedian, martial arts card thrower, improvisor and cabaret performer.
Tony Burgess
With his instantly engaging stage persona, Tony Burgess weaves carefully crafted gags into sometimes surreal stories about northern family life, which for over 25 years has proved a hit with crowds on the UK comedy circuit. A successful writer, Tony has written sitcoms for BBC 1/BBC 3 and Radio 4; his plays have been staged at The Royal Exchange Studio Theatre in Manchester and he's written jokes for many big name comedians such as Steve Coogan and John Bishop. Tony also managed to get a writing credit on Wallace & Gromit and the Curse of the Were-Rabbit, so even his kids now believe that he's got a proper job. As an actor you may recognise Tony from his role in the Johnny Vegas led BBC3 comedy Ideal where he played DJ Troy, Moz's crazy, vinyl obsessed brother; or maybe you've seen DJ Troy's latest reincarnation in the recent webseries DJ Troy: The Siege Of Troy.
Mick Ferry
Manchester based Mick Ferry is renowned as a fine purveyor of lugubrious surrealism and is established as one of the most sought after comics on the British and International comedy circuit. One of the finest comperes around, at ease bantering with a crowd but with no shortage of first-class material, Mick performs regularly at The Comedy Store in London and Manchester, as well as being sought after at comedy venues across the UK and internationally. A supremely talented and versatile performer, Mick is also an esteemed member of The Cutting Edge at the London Comedy Store; a furiously paced, topical team show in which Mick continues to hone his talent for off-the-cuff, satirical and topical comedy, wowing audiences with his spontaneous acerbic outbursts and razor sharp wit.
Acts subject to change. 18+ Proper swearing. Fully seated. We want everyone to have a great night at our shows. Please respect those sat around you by putting your mobile on silent and not talking when acts are on stage. Sorry, but we can only refund or reallocate of the show is cancelled. Thanks!