Most local towns have now announced details of their Christmas Lights Switch on Events and here is our list of some of the free events available this festive season.
Blackburn Town Centre – From Broadway To Blackburn!
Saturday 25 November – 2:30pm to 6:30pm – King William Street – Headline Act: None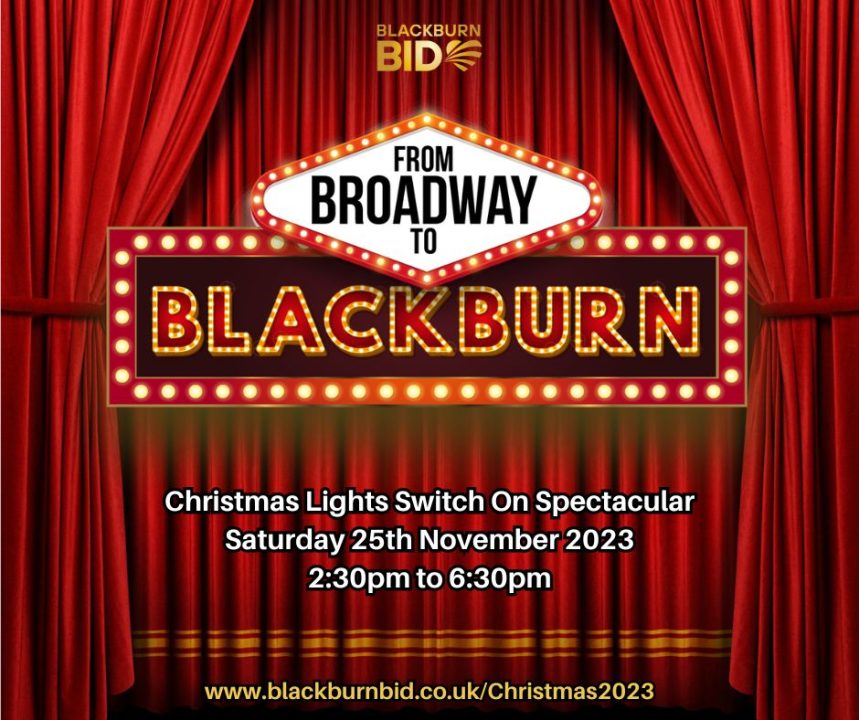 A foot-tapping musical extravaganza is on the programme for this year's Blackburn town centre Christmas lights switch-on! Blackburn BID, supported by Blackburn with Darwen Borough Council, have announced the programme for the popular annual event, and it promises to be even more spectacular than ever before! This family-friendly event will be bursting with tunes from hit musicals of the stage and screen… Not to be missed!
Blackburn town centre and Dubai-based Pop Up Global will be delivering a fantastic all-singing, all-dancing festive finale show starting at just after 6pm.
A fireworks display, sponsored by Rummage Rescuers CIC, will follow with the switching on of the town's Christmas Lights.
Darwen Town Centre – Lights Switch on & Festive Markets
Saturday 18t November from 10am – Darwen Market Square – Headline Act: N-Trance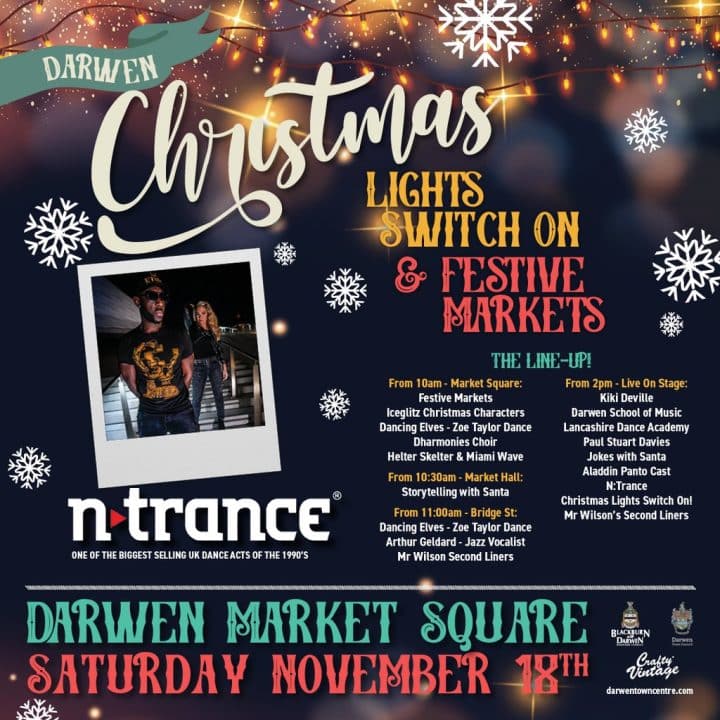 Get ready to 'set your Christmas spirit free' at the Darwen lights switch-on with headline act, N-Trance!
Join us on Saturday, Nov 18th for: The popular festive Christmas markets with delicious street-food and handmade craft ideas open right throughout the day. Special guest-appearance from 90s favourites N-Trance performing their huge hit 'Set You Free' and more! Plus the return of the helter skelter for the kiddies, a Miami Wave and our market will be open throughout the day and there'll be entertainment up Bridge Street too!
Accrington Town Centre – Lights Switch On
Thursday 23 November from 4pm – Town Centre – Headline Act: Junior Andre
Junior Andre, the 18-year-old son of TV personalities Peter Andre and Katie Price, achieved success in 2022 with the release of his debut single 'Slide', which reached number one in the iTunes pop chart.
The actor, singer, and TikToker will headline the Christmas lights switch-on event in Accrington on Thursday, November 23.
Preston City Centre – Christmas Lights Switch On
Saturday 18 November 5:30pm to 8pm – Flag Market
Headline Acts: Max and Harvey, soul and disco legends, Odyssey, and Corrie legend Anthony Cotton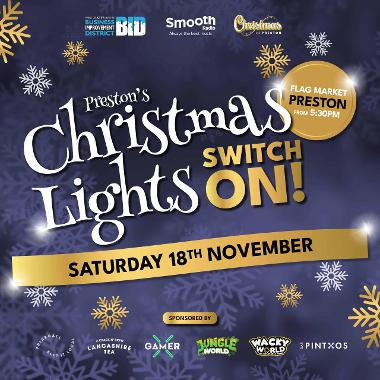 The event features a packed line up of special guests and performers, including the hugely popular Max and Harvey, soul and disco legends, Odyssey, and Corrie legend Anthony Cotton.
Plus, family film favourites, Dreamwork's Shrek, The Snowman and The Snowdog, will be making guest appearances, alongside the mischievous Grinch, and of course, Santa!
The event will be complemented with awesome local performers including The Street Monkeys, Carol May's Dance Academy, Micah Bimson, Becce J, who's storming Spotify with over 5million plays, British champions, DLN Dance, and professional football freestyler, current four-time world record holder, and world champion, Liv Cooke.
Burnley Town Centre – Lights Switch On
Saturday 18th November – 11am to 6pm – Headline Act: None
Join us for the annual spectacle of the Burnley Christmas Lights Switch On event.
There are interactive acts throughout the day with a live stage show from 3pm culminating in the switching on of the Christmas lights.
Bolton Town Centre – "Put Big Light On" from 30 November to 21 December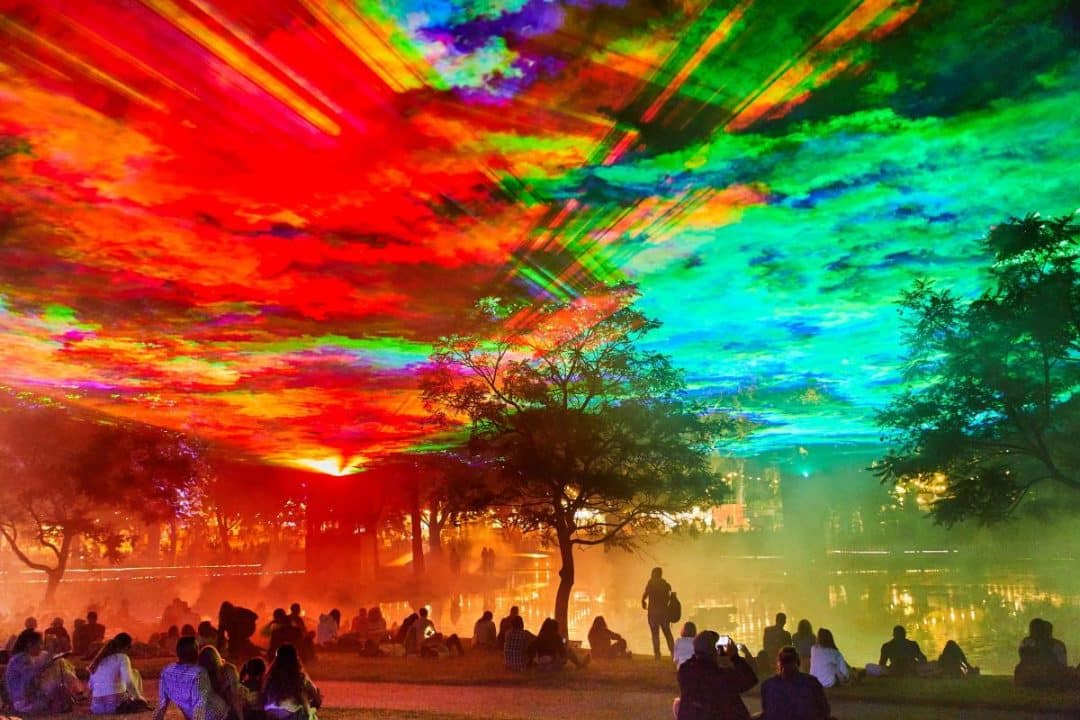 There will no traditional Christmas Lights Switch On event in Bolton, but instead the "Put Big Light On" festival of light will take place across Bolton town centre and include art installations inspired by the Northern Lights. The festival will include a moon exhibition up close at Bolton Library and a Northern Lights display over Victoria Square. The installations will be created by artists from around the world including Borealis by Dan Acher, Museum of the Moon by Luke Jerram and Evanescent by Atelier Sisu.

Looking back over Christmas Lights Switch Ons from Blackburn in the past, some of our favourites have included:
The Fire Garden in 2017 is probably our favourite. It was so different and innovative and included massive metal installations in Blackburn Cathedral Close that burned with fiery glows and massive explosions.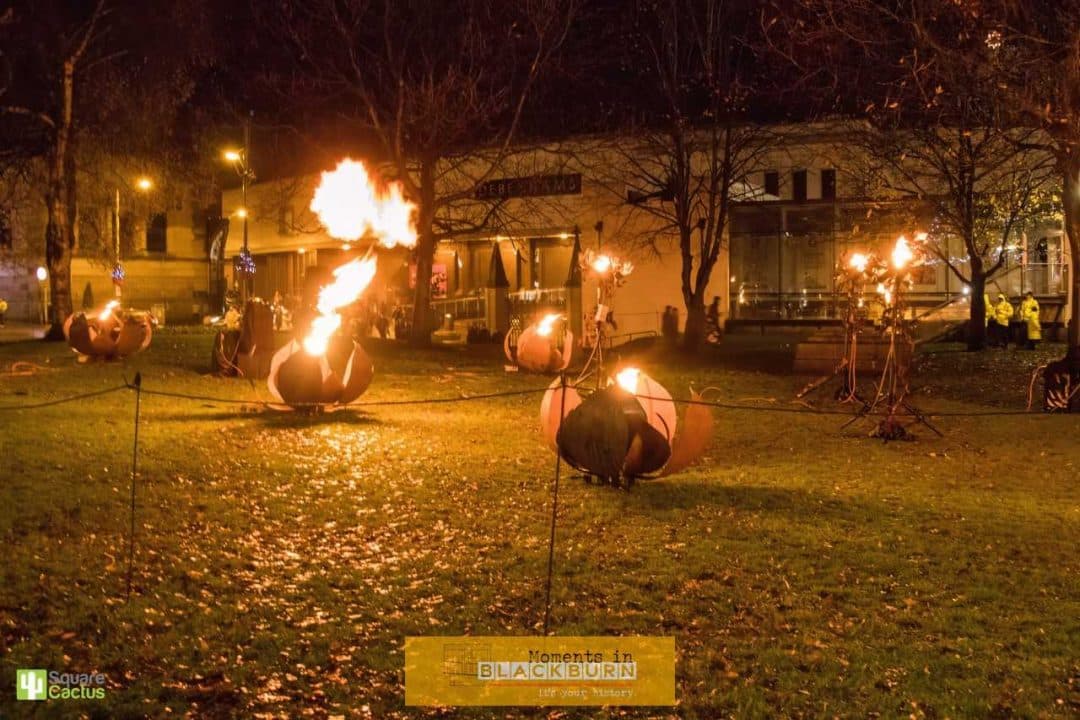 You could wander through the area all evening and enjoy the many fire & light performers, children received free glow-in-the-dark wristbands and an aerial artist performed to music way above the crowds in Town Hall Square. The lighting of the Fire Garden and lights switch on was performed by Sam Thompson from Made in Chelsea.
Our other stand out year was 2016's Sci-Fi Themed Event.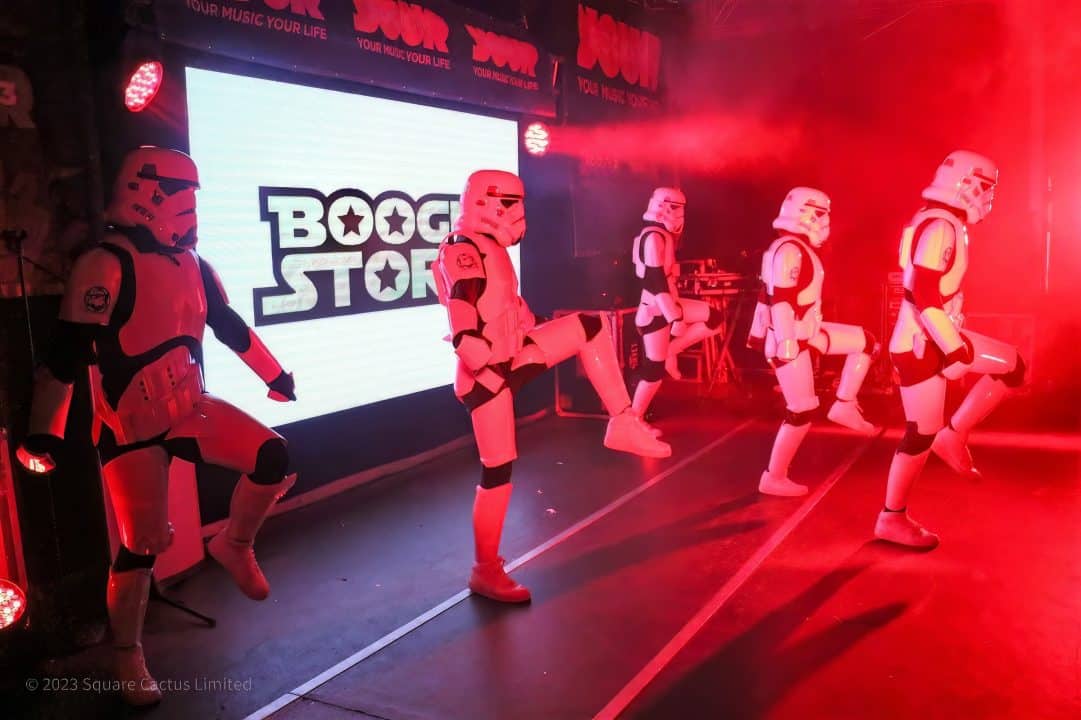 It starred Britain's Got Talent stars Boogie Storm, the dancing storm troopers. The Batmobile, the Ghostbusters Vehicle and a giant Stay Puft Marshmallow Man towering over the bus station. On the same day the theme continued with a Comic Con at King George's Hall with appearances by actor, Tim Proctor from Walking Dead, the Games of Thrones throne, a Tardis and the Dr Who's fifth time lord, actor Peter Davison.
The line-up of celebrity guests also included Blackburn's own, eighty-year-old Ted McDermott, known as the Songaminute Man, Coronation Street's Jack P Shepherd who plays David Platt who switched on the lights.