The winner of a competition to light the Jubilee Beacon at Darwen Tower has been officially crowned!
Janet Pearce, founder of Keep Darwen Tidy, was moved to tears when she was surprised with the news on Wednesday.
She received almost half of the 108 nominations in the quest to find a resident to light the beacon marking the Queen's 70-year reign.
Fighting back tears, she said:
This is an amazing honour, not just for me but for everyone at Keep Darwen Tidy.
I am incredibly proud to have been nominated and to have been chosen to light the beacon at the Tower – what a special thing to get to do.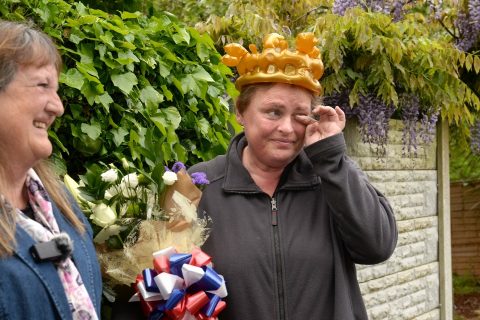 Janet founded Keep Darwen Tidy in 2018 after being diagnosed with a life-limiting cancer and had to retire from work on ill health.
She launched a Keep Darwen Tidy Facebook page which now has more than 3,000 active members. They work tirelessly in their own time to pick litter across the town, educate others about waste and instil a sense of real community pride.
Their efforts, and those of Keep Blackburn Tidy, are part of the borough's 'Red Bag Revolution' – a nod to the bags they fill with the litter they find.
Of course, Janet is rarely seen without her beloved sidekick – Rosco – 'Darwen's litter picking dog.'
On hearing the news that she had won the competition, she said: "We're going to the Tower, Rosco!" to cheers from those watching on.
One of the many nominations for Janet captured the incredible work she does in the town, saying:
Janet is a shining example of the community spirit and good heartedness of the Darwen folk.
She is a champion of recycling, organising community group clean ups, advocating for voluntary litter picking and helping people take pride in the area they live.
She is truly a beacon of the town and thus so deserves to light up the Jubilee Tower like the shining star she is!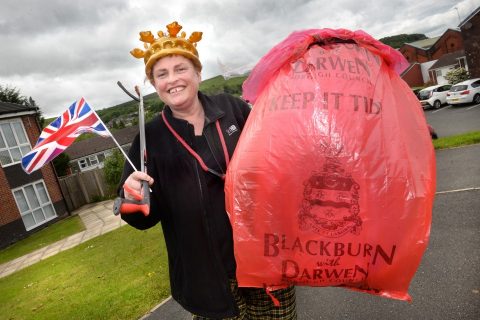 The judging panel was made up of Councillor Phil Riley, Leader of Blackburn with Darwen Council, Wayne Wild, Chair of the Darwen Town Deal Board, and Jane Oates who recently retired as a councillor for Darwen East.
Jane, who has lived in Darwen her whole life, said:
What an absolute privilege it was to be asked to judge this competition and to get to surprise Janet too!

I was moved to tears by the huge sense of pride for our community heroes in the many nominations – it shone through in each and every one.

It was always going to be incredibly tough to decide on just one winner, but as many of the nominations said, Janet is a true inspiration and has helped make a huge difference to Darwen.

She is a very worthy winner and to see her reaction was just priceless!
The beacon will be lit on the evening of Thursday, June 2nd – you can find a full rundown of everything you need to know about the event here.