Blackburn Business Improvement District (BID) was renewed for a third 5-year term last week with a headline figure in favour of 91%. This, overall, must be good for town centre businesses.

The headline figures were not accompanied by the turnout figures though, which it now transpires was just 30%.
Out of the 336 business rate-payers who were entitled to vote only 102 took part in the ballot. It begs the question that when our High Streets are under so much pressure and competition, why do the businesses in Blackburn Town Centre not take part in the ballot in greater numbers?
With a simple majority of those voting in favour as well as a majority of the rateable value of the same voters, every business in the BID town centre area with a rateable value of over £10,000 will now have to pay a levy of 1.5% annually to the BID.
A recent report by the Institute of Place Management suggested that up to 20% of postal ballot papers do not reach the voter or do not arrive back to be included. That's 67 votes that could just go missing if these figures are accurate.
When we asked the BID about the low turnout, Nicola Clayton, Chair of the BID, said it was comparable to turnout in similar votes in Colne and Bradford. She added: "Every one of the 336 hereditaments was given the opportunity to, and encouraged to, vote" and also said "that the ballot result is overwhelmingly positive."
The national average turnout is 46.2% with some achieving much more, so why are we content with such low participation in Blackburn?
There are undoubtedly problems with a postal vote for such a complex electorate, where some voters are large Head Offices of high street brands and others are small sole-trader businesses. In the mix are a range of Blackburn with Darwen Council and Blackburn College buildings like the Town Hall, Cathedral Square Offices and several college buildings. Unfortunately the legislation for BIDs only allows for postal ballots.
It can be probably be safely assumed that the Council and the College all vote YES for the BID, but what proportion of the overall vote by numbers and rateable value make up the total yes vote is not known. We asked the BID for this information but they did not respond.
The BID ultimately raises about £1.5 million over a 5 year term and spends around £300,000 of that on administration and management costs, according to their accounts. So it can only be good news that £1.2 million will be ploughed in to support town centre businesses.
Blackburn Life Opinion
So now that we have a BID for 5 more years in Blackburn Town Centre, what could the BID do to make more businesses engage with its activities and how the money is spent across the Town Centre?
The following is our suggestion for the next five years:
More ambition with events to encourage footfall.
Promoting and supporting all the businesses who are in the BID area.
Increasing participation and diversity on the BID board.
Challenging the status quo.
Blackburn's Events
Blackburn's offering to entice people from further afield needs to be more ambitious. Although we had COVID during the second term of the BID, we seem to have lost some of the high profile, large footfall events that we saw in the first few years of the BID. Perceptions of Blackburn are not good and we need to fight hard to change these.
Remember some of the large scale events like Countryside Comes to Town, Here Be Dragons, Steam Sunday and the Fire Garden, that all took place in the first term of the BID?
The second term seems to have concentrated on family town trails, which, although fun for a few, are not the statement activities that Blackburn had become well-known for and do not bring large numbers into the town to rediscover what is on offer. We only need to look at other local towns who are currently "smashing it out of the park" with events like Les Commandos Percu performing the UK premier of their show Blast in Accrington for instance.
The BID in its renewal promotions said that their events had brought 35,000 people to Blackburn during their second term, whereas individual events used to bring in more than this on one day.
Promoting & Supporting
The BID needs to engage & promote all the businesses they represent, to ensure that every business sees the direct benefit. Taking a look at the BIDs Facebook Page as an example, in 2023 Checks and Greys has had 26 posts / mentions, whereas top-rated restaurant Thira has been mentioned just once.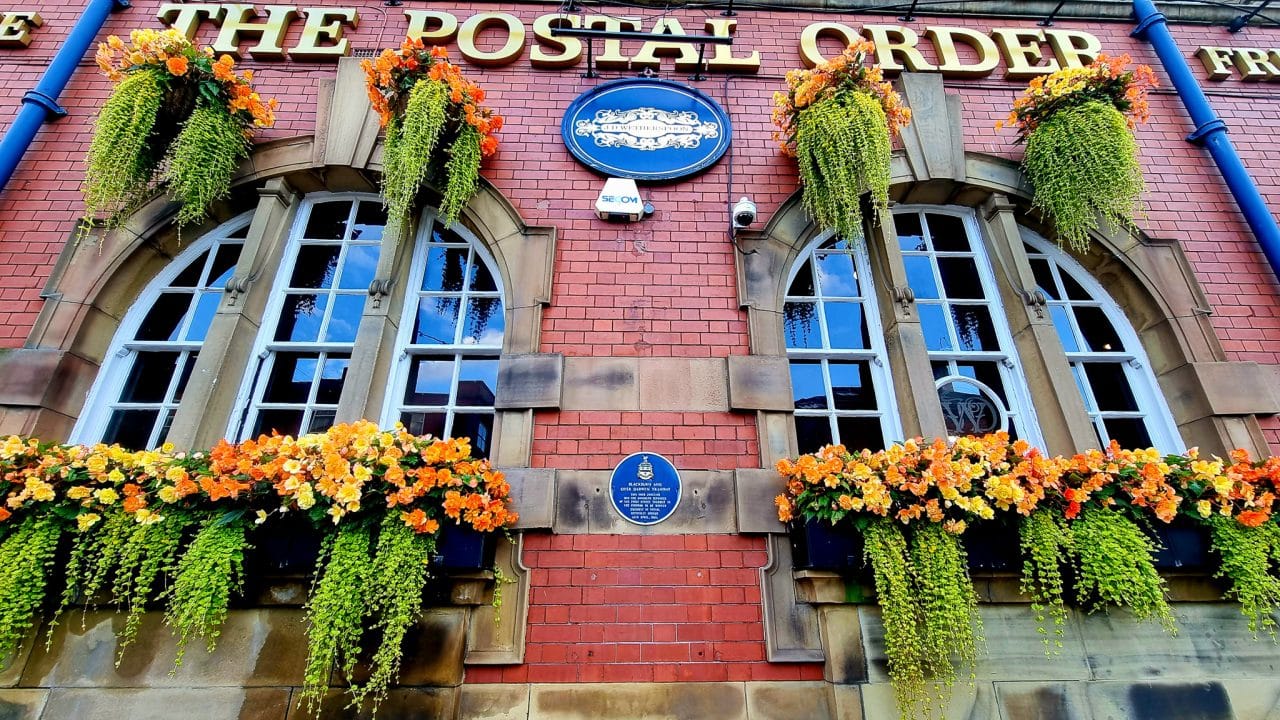 Geek Retreat has had 14 posts, whereas Bees Knees and the Drummers Arms have had 1 mention each and Wetherspoons has not featured at all this year, despite their amazing flower displays that brighten up the town on Darwen Street.
Rummage Rescuers on Town Hall Street got 9 posts, but Cancer Research not one post.
It's a difficult balance to strike, but particularly when some of these businesses are BID board members too, the BID needs to be seen to be acting fairly to all its businesses.
Participation and Diversity
The BID has elections for the BID board every year at their AGM and it would be great to see a wider range of representation from the town centre's diverse business base in terms of business type, ethnic background and skill sets that represents the town more accurately.
Any BID Levy payer can stand to be on the board and any local businesses in the BID area can take part. The BID have a history of preferring to recruit directly rather than having or swerving actual elections to the board, so perhaps 2024 could be the start of a new approach?
Challenging the Status Quo
All too often, people perceive that the BID and the council are the same thing.
Whilst the council is a major member of the BID, to truly support the majority of businesses in the BID area, the BID could more actively challenge the council on some of the decisions in and around the town centre.
Parking fees are a good example of this. Many towns have already moved to new structures of parking charges, with schemes like "stop & pop" where you can park for a short time for a very minimal fee or even for free. The free after three scheme was also an attempt to woo shoppers away from the out of town shopping areas. When there are free options on the edges of the town centre for big multinationals, a visit to the town centre, even to pick up a parcel or pop into a bank comes with an added cost.
It would be great to see the BID fight for changes or trials and recommend best practice from other towns.
Blackburn Life and Blackburn
So, we must declare an interest here, as our sister company worked with the BID during its first term and we chose to step away from the work near the beginning of the second term. It was time for a fresh start and our business was moving in different directions, but we remain as passionate about the success of Blackburn.
As our dedicated following and readers hopefully can see, Blackburn Life is still very dedicated to the success of our town and this is all done on a voluntary basis.

We now operate the biggest What's On Guide in the area and any business can register on our website to share their news, jobs and events or join our business directory.

We worked on a range of projects during COVID to support local businesses including our "Open for Business Directory" and the Local Coronavirus Support Group on Facebook which was chosen as the Blackburn representative for the national COVID Awareness Group national database.
We also created Local Lockdown Lowdown and once the country began to reopen we created pages of information including a Welcome Back campaign, live updates of Shopping Traffic Lights, the reopening of places of worship, promoted the reopening of the market with stall profiles and opening hour updates, supported Independents' Day, and created a timetable of reopening for close contact services, gyms, swimming pools and more.

You can read more about our support for Blackburn here: https://squarecactus.co.uk/a-year-of-challenges-and-support-for-our-local-community/
We hope the BID goes from strength to strength and that we are not too late to make impactful change to get Blackburn Town Centre on an upwards trajectory. It is only a few years ago, that visitors and judges, awarded Blackburn the national High Street of the Year award and let's hope Blackburn can make some great strides forward in the coming years.