"I love being in the audience witnessing the excitement when the Tiger arrives. The children see him before Mummy and Sophie, and love telling them about this unlikely visitor."
The Tiger Who Came to Tea is celebrating 12 years on stage and over 50 years as Britain's best-loved picture book! David Wood OBE is undisputedly the country's leading writer and director of plays and musicals for children. His many successes include The Gingerbread Man, The Witches and Babe the Sheep Pig. We spoke to him as The Tiger Who Came to Tea comes to Blackburn on Thursday 18 & Friday 19 August, following its smash hit West End run.
What most excited you about bringing The Tiger Who Came to Tea to the stage?
It was both of my daughters' favourite book, and my wife and I never tired of reading it to them. For some inexplicable reason I never considered adapting it for the stage, until Nick Brooke and Judith Kerr herself invited me to have a go! I was delighted that the first production was so well received, both by our audiences and Judith, who was wonderfully supportive of the enterprise.
Why do you think The Tiger Who Came to Tea is still so popular 50 years after it was written?
Children identify with Sophie, the child protagonist, and the familiar domestic situation of family mealtimes. Children enjoy stories with animals and food, and the arrival of the Tiger and his enjoyment of all the food on offer, is both amusing and intriguing. The surreal nature of the story undoubtedly adds to the enjoyment. And a night-time stroll through the streets to a café for a tasty supper is an exciting novelty.
Do you have a favourite line or moment in the show?
I love being in the audience witnessing the excitement when the Tiger arrives. The children see him before Mummy and Sophie, and love telling them about this unlikely visitor. The line, 'he drank all the water in the tap' is the line that most people remember, and I'm no exception. Interestingly, the publishers of the book advised Judith to remove it, saying that it went a bit too far. Luckily Judith firmly insisted the line should stay!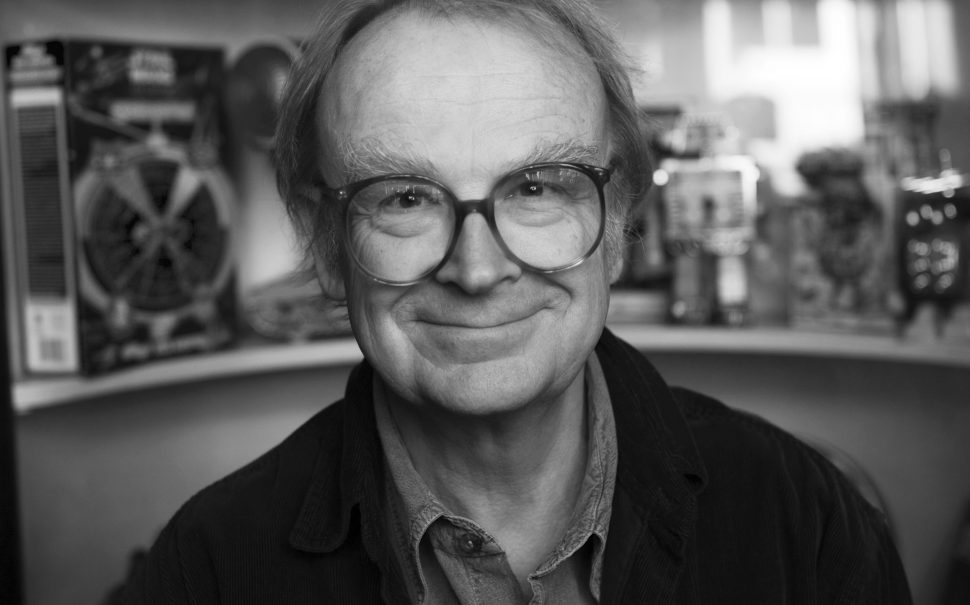 For many young children who come to see The Tiger Who Came to Tea, it is their first experience of theatre. Do you remember the first time you went to the theatre, and did it have a lasting effect on you?
The first time I experienced the thrill of watching a play was when I was at kindergarten, aged about 4. The older children performed it and I loved it. The first professional performance I saw was probably PETER PAN at the Scala Theatre. I was so taken with it that I insisted on returning annually for three or four years! Ever since, PETER PAN has been of endless fascination to me. Like the best children's stories, it works on several levels, and can be appreciated in different ways as one gets older.
Do you ever feel a pressure to do an author justice when adapting books for the stage?
I have been fortunate enough to adapt the books of several famous authors, bringing them from page to stage over the last fifty years.  Roald Dahl, Dick King-Smith, Philippa Pearce, Philip Pullman, Enid Blyton and Michelle Magorian amongst them.  My aim is always to be faithful to the author's original intentions, and to carefully preserve the spirit of the book, even when having to rearrange some of the key moments or even lose a few characters.  It seems to me that if a book is worth adapting, it is important to be faithful, rather than simply use the basic idea to introduce my own take on the story.  It always surprises me when so many films are so different from their source material!
The Times have called you 'the National Children's Dramatist'. What do you think is the key to making an inclusive, family-friendly production?
This is such a big question that some years ago I wrote a book about it! I aim to tell the story with clarity, striving to retain the interest and emotional involvement of the children. I don't worry too much about the adults. If the children enjoy the performance, the adults will! One of my aims, when writing and directing, is to create 'lots of suddenlies'. These are moments of excitement or revelation that change and progress the story. They may be new characters arriving, lighting changes, sound effects, musical 'stings', characters' reactions to new events or the use of movement. Action is important. You can't just have a couple of characters sitting down and talking for ten pages! By emotional involvement I mean that I am trying to make the children care. Sometimes this may involve an injustice. Children know all about fairness and unfairness. They want fairness to prevail.
What was your inspiration behind the music of the show?
For many years I have written my own songs for my children's plays. I want the music to be catchy and appealing, but even more importantly, to help further the story, rather than stop it in its tracks. I don't know who my influences are, but I have always enjoyed musical theatre, as well as popular music. I have never trained to write music, but enjoy, having written the words, usually with rhyme, finding suitable tunes in different styles to contribute to the action.
Did you have a favourite book growing up?
Enid Blyton undoubtedly taught me to read! One of the Famous Five books was the first book I read all on my own, in one long session! I also loved a series of books about a koala bear called WONK. I don't think many people have come across these books since they were published in probably the late 1940s or early 1950s. And I can't really remember why I enjoyed them so much! But I did.
What gave you the idea to introduce the magic elements into the show?
From an early age I was interested in magic tricks and started entertaining at children's birthday parties when I was 12 years old. Later, as a teenager, I performed for grownups as well. And, as the years went by, having become an actor, I started touring THE DAVID WOOD MAGIC AND MUSIC SHOW to theatres up and down the country. I was quite well known by then because I performed on children's television in shows like PLAY AWAY, JACKANORY and TRICKY BUSINESS. So, it was natural for me to want to introduce magic elements into my children's plays, when appropriate. THE TIGER WHO CAME TO TEA gave me lots of opportunities! The Tiger eating all the food needed to look 'real', and our magic supervisor, Scott Penrose, was able to make this happen. I also love the way Mummy's shopping trolley, seen to be empty, magically fills up with all the food necessary to replace what tiger has eaten!
Event Details
The Tiger Who Came to Tea – Live on Stage
King George's Hall, Blackburn
Thursday 18 & Friday 19 August (11:30am and 2:30pm both days)
Tickets https://bwdvenues.com/whats-on/the-tiger-who-came-to-tea-2021/