Drive-in movies begin in Blackburn's Witton Park starting on Friday 17th July.
Here's everything you need to know
The full schedule of films is:
| | |
| --- | --- |
| Date and Time | Film |
| Fri, 17 July at 4pm | Toy Story 4 |
| Fri, 17 July at 6pm | Sonic the Hedgehog |
| Fri, 17 July at 8pm | Grease |
| Sat, 18 July at 4pm | Trolls World Tour |
| Sat, 18 July at 6pm | The Lion King |
| Sat, 18 July at 8pm | The Greatest Showman |
| Sun, 19 July at 4pm | Jumanji – The Next Level |
| Sun, 19 July at 6pm | Mamma Mia |
| Sun, 19 July at 8pm | Bohemian Rhapsody |
Tickets are £20 per car for each film
All tickets must be pre-booked
Your car must be capable of FM radio reception
Book tickets here http://www.driveinmovieshow.co.uk/tickets.php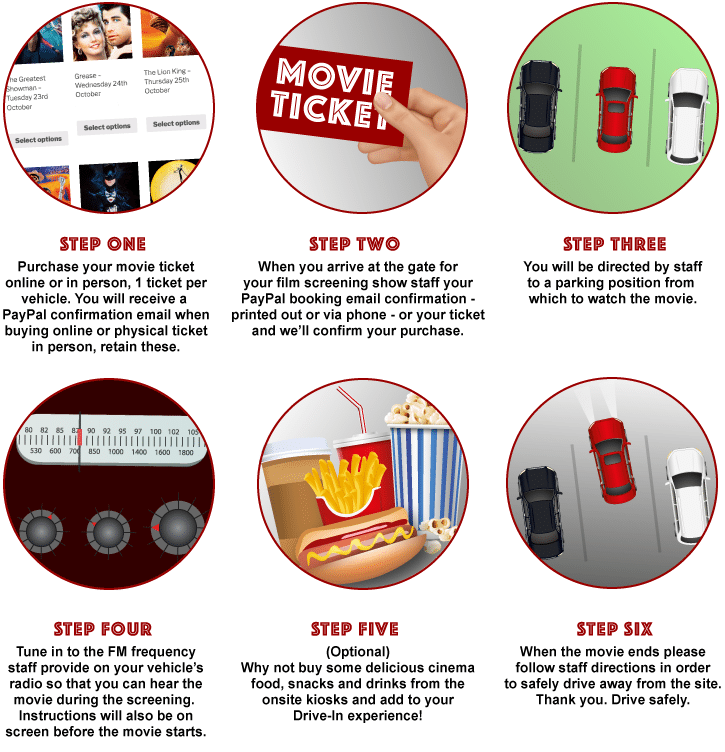 The Diner is open on movie nights offering a fantastic selection of your favourite cinema foods, snacks and more including; hot dogs, burgers, popcorn, nachos and sweets as well as soft drinks or hot drinks, crepes with a selection of delicious toppings.
All items will be clearly priced at the kiosk.
Card payments are preferred.
What time do gates open and when does the film start?
Gates open at 6pm – 2 hours before the film start time at 7.30pm. For sold out screenings the gates will open from 5pm. For matinee shows the gates will open at 1pm for 2.30pm start time.
What time do gates close?
Gates close 30 minutes before the film start time to ensue everyone has entered, been parked and is settled.
I'm running late does that mean I can't get in after 7pm?
Stewards remain situated on the gate up until the film start time so that any late arrivals may be allowed access however, there is NO ADMITTANCE once the film starts and we do not issue refunds for latecomers or non-attendees.
Will there be Toilets?
Yes, controlled by a steward one person at a time.
Can we park earlier and leave, returning to watch the film?
Absolutely, you can get your spot, leave for a drink, food or a walk and return to join your vehicle by 6:45pm latest on foot
Can I buy a ticket on the night?
Sorry, during the present climate all tickets must be purchased in advance as we will not be talking any cash at the gate.
Do the food kiosks accept cash?
Yes but card payments are preferred
Can I bring my dog?
We generally advise against this as film nights can be busy, with moving vehicles prior to films starting and if your dog were to cause an issue with noise for other attendees you could be asked to leave.
This event is not associated with Blackburn Life